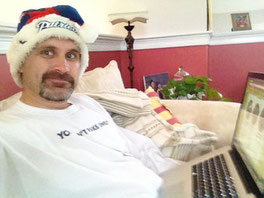 I just did something. And that made me realize something. And that made me want to write something.
First some background. As I type away at this moment, it is 12:57 EST on December 13th, and I am at my mother-in-law's house on Cape Cod, where we'll be hosting 13 kids to make gingerbread houses in 33 minutes (oops… 32 minutes). I'm decked out in my holiday hat, and my wife is naturally taking the reigns on the prep work. 20 minutes ago she instructed me to dash over to the grocery store to get some OJ for mimosas (hey, the adults get to have some fun too!).
So I dart over there, and as I entered, there's a guy giving out samples of some kind of food. Never one to pass up free food, I head right towards him. As I get closer, I see that it's some kind of salad dressing with some kind of labeling about being made in Chilmark. For the uninitiated, Chilmark is a section of Martha's Vineyard, on the west end of the island. So the guy doing the samples–I'd put him at 55-60 years old–seems to be a truly friendly guy. He starts telling me how it's his sister's recipe, and the stuff is great on salads but it also makes for a great marinade. It's mindless banter. But the guy's a nice guy, and I'm in a good mood, so I'm chatting away with him. I ask him if they're selling the dressing online or just in retail stores. He says something a bit hard to decode, like, "Yeah, here and there." So because I'm nosey and I'm in a chatty mood, and because I'm building a performance apparel brand online and selling through an eComm site, I press him on it a bit, asking something like, "What platform do you use?" Then the truth comes out: People they know on the Vineyard shoot them emails with orders, and they deliver those orders to people's homes. That's their online presence.
Out of nowhere, I launch into what must sound like a marketing pitch.
"Oh, hey, you know I sell shirts online, and it's a totally different kind of business, but I built my site on the Shopify platform. It's amazing, there are something like 100,000 stores hosted on the Shopify platform." I know I sound like a sales man, but it's like I can't help it.
"Really?," he says. I don't know if he's genuinely interested, but if he's just pretending to care, he's gonna have to pretend a bit longer. I have to keep going.
"Oh man, it's amazing. It's dirt cheap--$30 a month or so. The platform is drop-dead easy; you don't even need to know how to code and you can build a full-fledged eComm site. Oh, and the support is phenomenal. They're available 24/7."
OK, that's enough I think to myself. Plus, gotta get that OJ back in time for the crowd to have mimosas upon arrival. I hand him my card, and as I part, I offer this: "Hey, if you're interested in trying the eComm thing, feel free to give me a call or shoot me an email, and I'll chat your ear off about it."
As I head back to get the OJ, the thought crosses my mind: I just did the kind of sales job for Shopify that they could never do for themselves. What's in it for me? Nothing. But my experience with them has been so awesome that I want to tell people about it. It makes me feel like I'm doing this guy a favor to tell him about it. That is pretty powerful. If I were the owner of Shopify—or I worked at Shopify—I'd be damn proud of that.
Then I think about the companies I've worked at, and I think about the brand I've been trying to build as a bit of a "passion project"—You Can't Fake Sweat. Have the experience and service been so awesome that customers feel inwardly compelled to tell strangers about them? I'm sad to say I haven't worked at a company like that quite yet. I'm happy to report I think I have had that happen with You Can't Fake Sweat customers a few times, and it gives me a bit of a rush.
There's a business book that was published years ago called The Ultimate Question. The author posits that this is the ultimate question to ask customers when evaluating a business: "Would you recommend this business to a friend?" Indeed, the answer to that question is quite telling.
But imagine running a business so well, having a product so good, providing customer service that is so delightful… that customers not only tell friends, but they walk up to strangers in supermarkets and tell them about it.
That's what Shopify has done. And it would probably be wise for us all to think about how we can do this as we build businesses and build our careers.