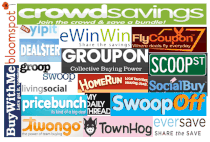 I have some pent-up thoughts on the dynamics at work in the "group buying" space. Having cofounded a company called KangoGift (not a group-buying service, rather a service that allows people to send real gifts instantly by text message), I've had a lot of interactions with retailers who have been approached by and have used group-buying sites. I've also bumped into investors who have tried to prod KangoGift towards more of a group-buying/discounting model. I've given group buying plenty of thought, and it's time for a brain dump…
Is it really group buying or just new-world coupons?
Groupon, Buywithme, LivingSocial, CoupMe, Eversave, DailyDealster. HomeRun… they're referred to as group-buying sites, and in a way, it stands to reason. They claim that if they can get enough people to participate in a deal, they can offer a product or service at a great price – usually at 50% off or more.
But here's the truth – they virtually always get enough customers to activate the deal. For example, where I live – in Framingham, MA -- Groupon needed 50 customers to opt in by end of day for today's local deal to be be "tipped" – which is 58% off five car washes at a local car wash joint. Groupon probably sends this deal off to well over 10,000 people, perhaps more than 100,000 (with the way they segment their email lists, I have no way of knowing the exact number). Of course they'll get 50 people to participate. To emphasize my point, the deal tipped before 9 AM.
To call a spade a spade, I don't think the vast majority of people participate in the deals for the "group" aspect of the deal. They participate to get a great deal. It's a modern-day coupon for all intents and purposes.
While I don't think people are truly participating for the satisfaction of participating with a group, I'd certainly concede that social media has helped Groupon and the rest expand in ways not imaginable just a few years back. Deals gets posted and shared by thousands of people on Facebook every day, as well as tweeted/re-tweeted thousands of times. For a simple value prop message (e.g. "50% off your next spa treatment"), social media is a powerful marketing phenomenon, no doubt.
Some of the hidden little secrets
As someone who has talked to plenty of retailers who have tried group-buying sites, there are some interesting pieces to the puzzle that many folks don't understand. To name a few…
It's damn expensive for the retailer: The beauty of the group-buying model is that technically a retailer doesn't pay a group-buying site a penny to participate in a deal. But that doesn't mean it's cheap. First of all, the group-buying site will insist that the retailer offer somewhere between 50-90% off. Take the car wash deal I referred to before. It was 58% off the normal price -- $25 for 5 car washes, which is normally $60. Group buying sites will then retain anywhere from 25%-50% of the sale price. With Groupon – due to its enormous marketshare – they're probably taking 50%. Holding those assumptions, in today's deal, Groupon gets $12.50 per unit sold, and the car wash gets $12.50. Remember, the car wash is giving away $60 worth of product. This probably is just fine for a car wash. But for a clothing store? A specialty food store? A toy store? That's a steep price.
The "Breakage" factor: This is somewhat stunning but true. From the retailers I've talked to, anywhere from 20-40% of deals bought on group-buying sites are never redeemed. In the gift card business, a gift card that's never used is referred to as "breakage." Of course, this breakage offsets the aforementioned expense for the retailer a bit. Part of me thinks consumers will eventually wise up to breakage but another part of me knows they won't.
There can be serious buyer's remorse: There are undoubtedly some retailers who are thrilled to bits with the customers group buying sites deliver. But I've heard a fair share say that they'll absolutely never do a group-buying deal again. They get overwhelmed with customers in a very condensed period of time, or they feel like the deal cheapens their brand in the long run, or the promise of new customers that convert into repeat customers turns out to be hollow.
The copycat phenomenon
It's truly amazing to see how many group-buying sites have come out of the woodwork. I've been following Groupon since early 2009. There was perhaps one other company doing something similar back then. Fast forward 20 months, and there are so many group-buying sites out there that it's a bit absurd. It's a bit shameless as well; not only to these clones copy the business model, they copy the look and feel of Groupon's site. There are, in fact, son many group-buying sites now that aggregators are cropping up (more on that in a bit).
I guess this goes to show a few things: The entrepreneurial spirit is alive and well in America – for better and worse. Plenty of people want to build companies and hit pay dirt, and plenty of people have no qualms trying to essentially do a copy and paste.
The big little secret: It's all about the sales force
While imitators abound, one thing that I think is under-estimated is the sales challenge involved in a group-buying site. While you can read about the how the $100 billion local advertising business is just there for the taking, trust me that it just ain't that easy. Groupon, which undoubtedly has a tremendous amount of inbound demand from retail businesses, still needs a gargantuan sales force of thousands of people to do what it does. They have thousands of sales folks pounding the pavement from Seattle to St. Petersburg – and that's not an easy (or cheap) thing to replicate.
.
I have to wonder what Groupon is thinking about leveraging this sales force in other ways. Employees with connections into thousands of local businesses is an absolutely awesome asset, and it could be used for more than great discount deals. I'm very curious to see how this plays out.
How will aggregators change this game?
I spent close to 10 years working at Monster.com. Among the hundreds of companies to come along to take a bite out of Monster's lunch were the job aggregators – sites that essentially just scrape as many job boards as they can find and display all the jobs all in one spot. Two of the big ones are Indeed.com and SimplyHired.com, and frankly, they're brilliant. If I'm searching for jobs, why go to Monster.com, Dice.com, CareerBuilder.com, MyLocalNicheJobBoard.com all separately if I can just go see all the jobs listed in one spot?
Well, group buying is just like job boards… do I want to subscribe to 23 different group buying sites or one aggregator like GroopBuy or Yipit? (some more on this trend here: http://www.dailyfinance.com/story/aggregators-will-change-group-buying/19756903/) The jury is still out.
The self-service model
To me, this is one of the most interesting unanswered questions in this space. Groupon announced last fall that they'd allow companies to create and promote their own deals. And there are new companies like Privy out there trying to enable a self-service model. On the one hand, this makes perfect sense – turn the whole thing into a SaaS model and let everyone service themselves, right? Well yeah, except there's the reality of it all, namely…
Getting small business owners to do anything is a massive uphill battle. They are busy, they are often disorganized, they're not necessarily tech-savvy, and they're putting out fires all day. Barriers abound. Trust me! :)
If I'm a small business owner and I'm not getting new customers in the door by running a huge discount, is it really something I want to do for my existing customers and fans? Why would I advertise a 50% off deal through my website or Twitter feed or CRM campaign to people who are already interested in my brand? I'm not saying there's never a reason a business owner would want to do this, but as a general rule, discounting is intended to get new folks through the doors.
It's all fascinating to follow, and it's going to be very interesting to see how it all plays out.